Hamilton Jazzmaster Collection: The American Spirit
Feel the spirit of America on your wrist with Hamilton Jazzmaster
Dec 12, 2020
Introduction: Hamilton Watch as American Spirit
With the motto, "American Spirit, Swiss Precision", Hamilton perfectly describes what the brand is all about. Hamilton was originally found in Lancaster, Pennsylvania, USA in 1892, but as the expansion grew, Hamilton is now a Swiss watch manufacturer in Bienne, Switzerland.
The company name is taken from James Hamilton, son of Andrew Hamilton, a Scottish-born lawyer who founded Lancaster and originally owned the factory's location. Hamilton's first watch was a 17-jewel pocket watch and the brand only produced two movements in the first 15 years of its existence. It launched its first watch in 1917.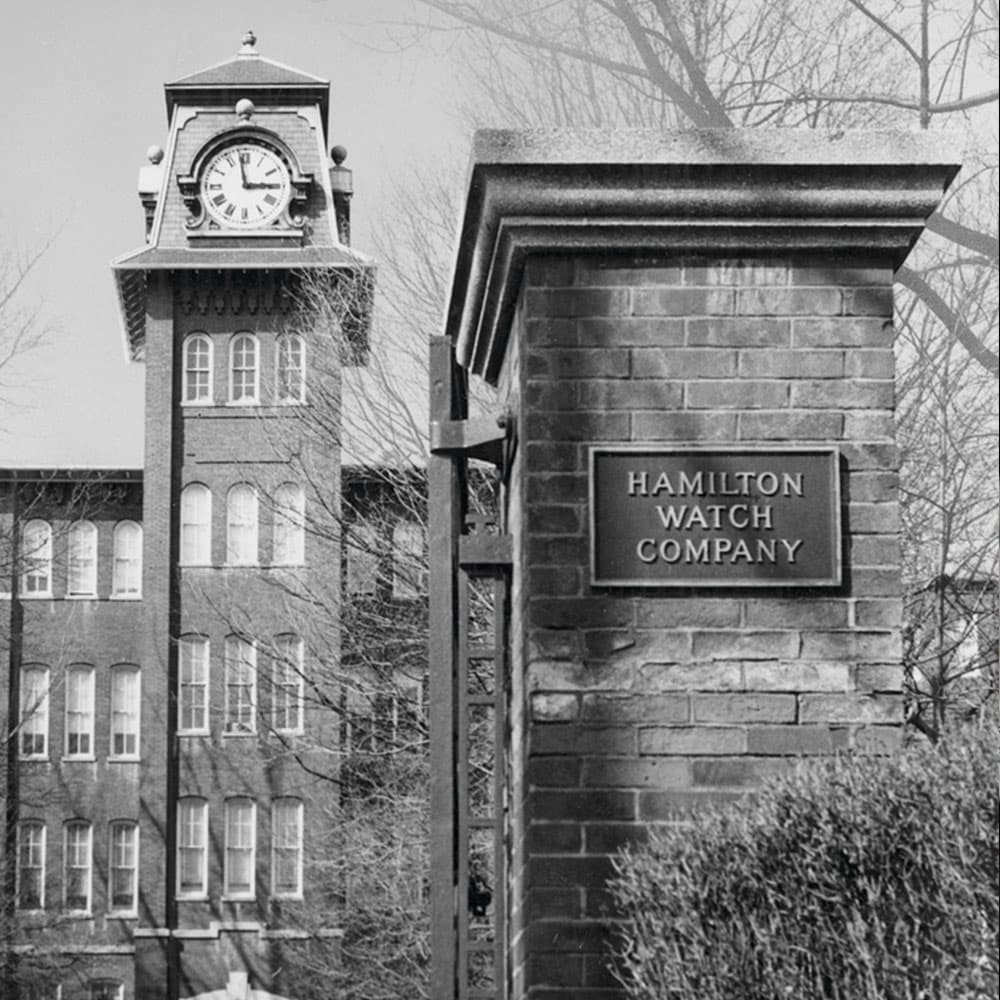 (Hamilton watch initial company in 1892. Photo Credit: Hamiltonwatch) 
Hamilton began to gain recognition during the early days of American railways; watch manufacturers provide watches that help prevent and reduce accidents by ensuring the timing is synchronized on the rails. In fact, at one point, about 56% of the rail community used the Hamilton cut.
With 1918 witnessing the First World War and the development of aviation, Hamilton began manufacturing the watches that kept coast-to-coast US Airmail service running smoothly. In the Second World War, Hamilton turned their attention to the military and temporarily halted manufacturing of consumer products.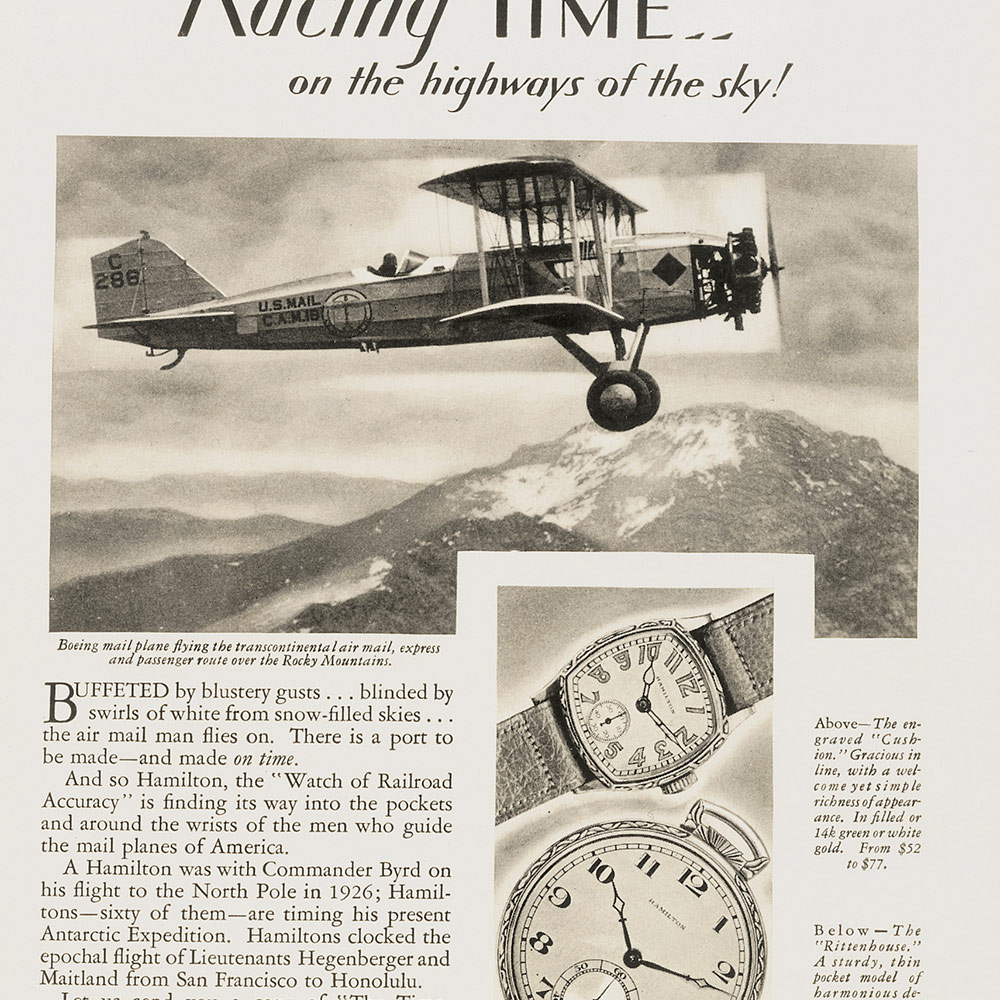 (Hamilton watch appeared on newspaper in 1927. Photo Credit: Hamiltonwatch)
In 1969, Hamilton ended all American manufacturing operations and moved them to their Buren factory in Switzerland.
Hamilton's long history includes several accomplishments and innovations, such as their product having appeared in more than 450 Hollywood films and the fact that, in 1957, they created the first electric watch powered by a battery and, in 1970, the first LED digital watch.
Known as the Film Brand, Hamilton's watches were first seen on screens in 1932 in the film Shanghai Express; in 1951, timepieces were an essential part of the film The Frogmen. Ventura, one of the brand's most popular models, appeared on Elvis Presley's wrists for the first time in 1961, and the brand designed a custom watch for 2001: A Space Odyssey Kubrik.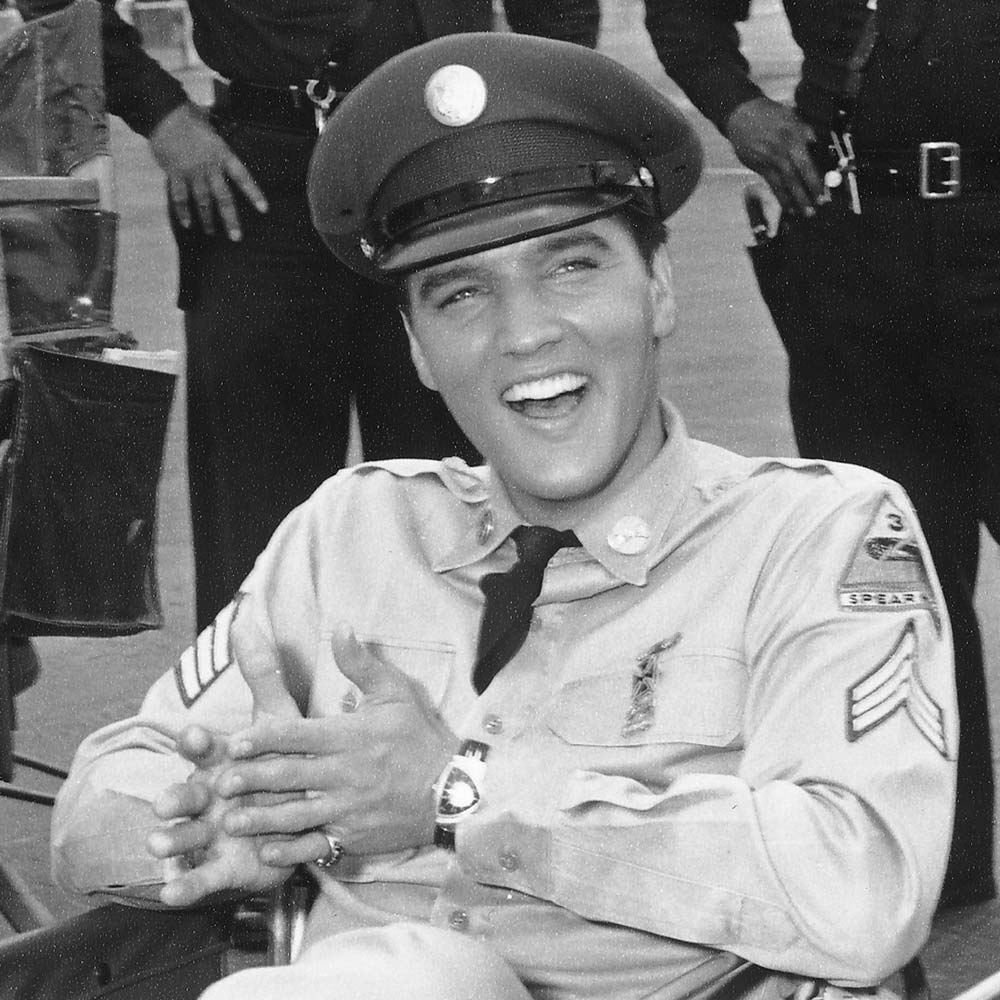 (Elvis Presley was seen wearing Hamilton watch on one of his performances. Photo Credit: Hamiltonwatch)
From Men in Black and Independence Day to Die Hard and modern box office hits Interstellar and The Martian, Hamilton watches are true icons of the world of cinema.
Hamilton is also the Official Timekeeper of the Red Bull Air Racing World Championship, as the company continues to develop its relationship with aviation.
The watchmaker produces automatic, mechanical, and quartz watches for men and women and the collections are world renowned for being durable, precise and innovative - not to mention instantly recognizable.
Hamilton Jazzmaster Collection
Hamilton went to great lengths to create work that watch enthusiasts and fashion-conscious individuals would admire. They have several collections that are sure to appeal to a variety of customers, as they are designed to suit different personal tastes as well as the needs of the watch.
Whether you are a watch buyer who seeks for a piece steeped in history or a stylish modern model that lets you look iconic even in a crowd, Hamilton has something for everyone.
At Gnomon, you can find a wide variety of lines and watches that evoke the American spirit while still maintaining the precision associated with Swiss manufacturing. Iconic and high performance, the Hamilton watch is perfect as an everyday item and also the perfect companion for your outdoor adventures.
Hamilton Jazzmaster Skeleton Auto Anthracite
Hamilton watches are innovative, iconic and are well-known for their American Spirit and Swiss Precision. This brand is renowned for the highest performance standards and Swiss-type movements. With an excellent reputation for expertise and a strong film, military and aviation heritage, Hamilton watch collections include Khaki Aviation, Khaki Field, Ventura, Khaki Navy, and Jazzmaster.
(Hamilton Jazzmaster Skeleton Auto Anthracite - Bracelet)
The Jazzmaster series features a range of contemporary watches that resembles Hamilton's long history and tradition of making high-quality timepieces, offering a spectacular look for those who enjoy the best of life. The Jazzmaster collection strikes the perfect balance between tradition and innovation, offering the wearer the ideal timepiece for important moments and beyond.
Now, in the time of rapidly improving technology and lifestyle at breakneck speed, the all-new Hamilton Jazzmaster Skeleton offers something distinctly different. With its internal mechanisms exposed, it's a chance to stop and appreciate the ingenuity of traditional timepieces.
(Hamilton Jazzmaster Skeleton Auto Anthracite - Bracelet)
The Jazzmaster Skeleton Anthracite - Bracelet Ref. The H42535180 sets where it is designed to be the perfect combination of a specific savoir-faire cut with modern technology. Smartly sized at 40mm wide and 11mm high, the combination of brushed and polished stainless steel throughout the case mimics a distinctive sporty style but with lovely contrast. Furthermore, at 40mm, the Jazzmaster Skeleton is 50m waterproof and wears extremely well, thanks to the 47mm long lugs to lugs - versatile dimensions for most of our wrists, for both men and women.
(Hamilton Jazzmaster Skeleton Auto Anthracite - Bracelet)
Further, the case features a fine domed sapphire crystal that accentuates a thick, polished bezel. Mounted on the opposite side to the back of a threaded showcase with important specifications engraved on it. The design of the lugs reminds one of several horn shapes, bringing to life the uniqueness of the watch as a whole, not just running the typical round dressed watch factory.
(Hamilton Jazzmaster Skeleton Auto Anthracite - Bracelet)
To showcase the precision and beauty of this automatic caliber, Hamilton designers took an innovative new approach to dial work. They incorporate the symbolic 'spiky H' design signature into the cut-out structure of the matte black frame dial. The effect of producing a unique and attractive timepiece is sure to impress. The 'Spiky H' is the symbol of a modernized H, which is the hallmark of Hamilton's design. This robust character cut button is a perfect match for the refined stainless steel case, which is meticulously executed.
(Hamilton Jazzmaster Skeleton Auto Anthracite - Bracelet)
For time indication, one bore the applied facet markers for hours, flapping a semi-open segment dial indicating mechanical work. The dial is further paired with the "Flieger" sword-style hands, and all done with the SuperLumiNova for night legibility. There is no date display, but the excellent 3 o'clock position shows the "Hamilton" logo, resulting in a clean watch while maintaining overall balance. Tying the Jazzmaster to the wrist, one can conclude that the contemporary is built for a sense of class above all else.
(Hamilton Jazzmaster Skeleton Auto Anthracite - Bracelet)
The Jazzmaster is powered by the Caliber H-10, which is the ETA C07.111 25 gem automatic movement. The main tweak has a pumped power reserve of up to eighty hours while the balance frequency is slowed down from 4Hz to 3Hz, or from 28,800 beats per hour to 21,600 beats per hour. Subsequently, the main spring was extended due to the reduction in the core of the barrel arbor. 
(Hamilton Jazzmaster Skeleton Auto Anthracite - Bracelet)
This allows a longer power reserve to increase automatic movement, with a lower rate reminiscent of one of the old-school hand crankers found on antique military watches. With all of this, Hamilton really is the few who can produce such an increase in movement on such a large scale and henceforth is well appreciated.
Hamilton paired the Jazzmaster Auto with the 20mm stainless steel multi-link bracelet. One might notice that is usually seen on dress watches from the 60s. Classic, yet suitable for all occasions and conditions.
(Hamilton Jazzmaster Skeleton Auto Anthracite - Bracelet)
Balancing tradition and innovation perfectly, the Jazzmaster Skeleton brings up a bold impression of Hamilton's signature style. It offers a glimpse of the precision of the Swiss automatic movement in action. Comes from quality materials and featuring a variety of dial and strap combinations, this is a collection series that is destined to be Hamilton's best.
Hamilton Jazzmaster Skeleton Auto Anthracite is available in Gnomon store for those who would love to feel the touch of luxury on their wrist. 
Hamilton Jazzmaster Viewmatic Auto Black
Second in the Hamilton Jazzmaster Viewmatic review is this edition of the popular leather strap. It features a nice large 44mm stainless steel case which is 10mm thick. The strap has a contrasting seam and is made of soft, brown genuine leather. It is fastened with a traditional clasp style clasp.
(Hamilton Jazzmaster Viewmatic Auto Black - Bracelet)
This men's Hamilton watch features a large black dial with silver hour markers and sleek silver hands. Useful date functions can be found at the 3 o'clock position. The hour hand and hour markers have a small lume strip that makes the watch easier to read in low-light conditions.
(Hamilton Jazzmaster Viewmatic Auto Black - Bracelet)
The drive for the Hamilton Jazzmaster is a Swiss-made automatic rotating machine. It's powered by the movement of your arm and doesn't require batteries. One of my favorite features on this Hamilton watch is the display back case which lets you see the movement from the back of the watch. The sapphire crystal glass on the front and back of the watch provides a very high level of protection from scratches which is great to have. This men's watch also has a water resistance rating of 100m.
(Hamilton Jazzmaster Viewmatic Auto Black - Bracelet)
Hamilton Jazzmaster Viewmatic Auto Black is one charming watch you should add to your collection. Check the Gnomon store and bring home one now!
Jazzmaster Open Heart Auto Silver 
The unique Open Heart Jazzmaster is designed to let open movements do the talking. Without any complications, Open Heart is an attractive and understated watch despite the open heart-shaped dial. It is well made and uses the ETA 2824-2 automatic movement.
(Hamilton Jazzmaster Open Heart Auto Silver - Leather)
Hamilton Jazzmaster Open Heart Aesthetics & Design
At a diameter of 40mm, the Open Heart looks small on a man's wrist. Apart from the small case size, the Open Heart is also quite thin, it easily tucks under the cuff and looks great in a casual business setting.
(Hamilton Jazzmaster Open Heart Auto Silver - Leather)
Despite the open-hearted look, this Jazzmaster looks far from being exaggerated. An open heart features two brightly colored gems at 12 and 7 o'clock, giving the other monochromatic dial the only color splash.
Movement
The Hamilton Jazzmaster Open Heart features the Swiss-made ETA 2824-2 movement. These movements were immensely popular, powering millions of watches, and were highly respected in the industry for their reliability and accuracy.
(Hamilton Jazzmaster Open Heart Auto Silver - Leather)
The ETA 2824-2 is an automatic watch movement, featuring 25 gems and a maximum daily variation of around 15 seconds (meaning the watch can increase or decrease in time by up to 15 seconds per day). ETA 2824-2 can safely be considered reliable.
Value For Money
Open Heart tends to average around $ 940 on Gnomon - which is a pretty good price. The quality and materials of manufacture do reflect that price range too. With proper care and wear, this Hamilton type will look great on your wrist for a long time.
(Hamilton Jazzmaster Open Heart Auto Silver - Leather)
Jazzmaster's quality is above any other open heart / frame watch you'll find in the under $ 1,000 price range. You can get Stuhrling using clone movements for under $ 250, but they don't have a sapphire and don't use the Swiss movement.
With respect to its counterparts, it is well priced and well made. Thus, Hamilton watches are very much recommended to people for that very reason.
Hamilton Jazzmaster Open Heart Build Quality
Hamilton makes fine watches, and Open Heart is another example. All of the Hamilton's I've reviewed so far have had consistently good workmanship inside and out.
Crystal, Case and Dial
The case is made of stainless steel and feels comfortable. The weight is most likely ideal for most people, and gives the Jazzmaster a feeling of good quality. It doesn't feel brittle. Sapphire crystals have a big role to play in that feeling too. It looks good and has an anti-reflective coating.
Straps And Buckles
The black crocodile acorn skin strap is Hamilton's standard unit. It sits snugly on the lugs. When held, it feels comfortable to wear - even for long durations. One can comfortably wear it for hours. Stainless steel buckles are also of good quality. It shows typical wear after several weeks of wear.
Jazzmaster Open Heart Auto Silver would be a splendid choice for your next collection. Get one now on Gnomon Store!
Jazzmaster Face 2 Face II Auto Chrono
The Hamilton Jazzmaster Face 2 Face II Limited Edition is an update of the 2013 Hamilton Jazzmaster Face 2 Face with a new redesigned dial layout, the introduction of the "passing chronograph second hand" and a new movement. The remainder of the first version is a very attractive rotating case, which rotates on the horizontal access of an oval stainless steel case, allowing the wearer the ability to have two watches in one, and allowing Hamilton to pack as many interesting features as possible.
(Hamilton Jazzmaster Face 2 Face II Auto Chrono - Ltd Ed 1999pcs)
There is an outer case housing a rotating watch head articulating to the knob on the right and visible screws on the other. The crown is good-sized, easy to grip with curved sides, and is marked with a retro Hamilton "H" - and is flanked by two elongated chronograph presses. The Hamilton Jazzmaster Face 2 Face II Limited Edition case is 53mm in width and 44mm in height and, all things combined, wraps perfectly to the wrist. Thanks to the curved lugs and well-integrated black leather strap with turquoise double stitching that matches the elements on each dial. It's totally cool in a way that makes you want to immediately run to Hamilton boutique and at least try and play with it.
(Hamilton Jazzmaster Face 2 Face II Auto Chrono - Ltd Ed 1999pcs)
The main dial displays the hour and minute hands in the center against a warm silver background. There's a lot going on between the two buttons, so I'm going to cover the different "areas" of each button. At three o'clock there is a day and date window with white text on a gray stone background. While most prefer the background of this window to match the color of the dial they are interrupting, the coloring reflects the colors of the sub-dials in three, six, and nine positions. Of these sub-dials, which are at the nine o'clock position, occupy the most real estate on this side of the watch.
(Hamilton Jazzmaster Face 2 Face II Auto Chrono - Ltd Ed 1999pcs)
A semi-transparent window that shows off a day and date wheel, this sub-dial measures seconds and is, on its own, pretty minimalist. At the twelve o'clock and six o'clock positions there is a mirror chronograph counter measuring thirty minutes and twelve hours, respectively. The twelve-hour sub-dial overlaps a semi-transparent window, which overlaps the twelve-hour chronograph counter, creating a stacked feel and a visual map for navigating the dial.
(Hamilton Jazzmaster Face 2 Face II Auto Chrono - Ltd Ed 1999pcs)
Many watch enthusiasts like the white bars, since it looks like the bars that radiate out from the center of the dial and touch with the similar white line of the sub-dial and fill in the oval areas of the uncovered case. It saves some space to the left and right of the open dial on either side of the Hamilton Jazzmaster Face case 2 Face II Limited Edition. It really adds to the aesthetic sense of rigidity and cohesion.
(Hamilton Jazzmaster Face 2 Face II Auto Chrono - Ltd Ed 1999pcs)
The second dial is slightly more shelled than the first, and visually relies heavily on the watch movement of the Hamilton Jazzmaster Face 2 Face II Limited Edition, the H-41 automatic caliber with 60 hours of power reserve. Only half the movement is visible at any one time due to the semi-circular shape of the rotor, imprinted with the Hamilton name and a reminder that this is a Swiss-made watch even though Hamilton is of American heritage.
This side has only one hand, the chronograph's second hand which passes in turquoise, for use with the three measurement scales printed on the crystal and dial. There is a pulsometer, which allows the wearer to track the pulse of themselves or others.
(Hamilton Jazzmaster Face 2 Face II Auto Chrono - Ltd Ed 1999pcs)
There is a tachymeter for measuring speed of course, and also a telemeter that can be used to measure the distance to a remote sound. Telemetry is usually associated with naval warfare, but as Hamilton points out, it can be used to measure the distance to a lightning strike, for example. It's a creative use that has the obvious back case function as a second dial, you should love it even if it's not your style.
Only 1,999 Hamilton Jazzmaster Face 2 Face II Limited Edition watches will be made, and the in-progress number of each watch is printed on the side of the case's rotating case, hidden during normal use, but visible by serial number as you switch from dial option to another.
(Hamilton Jazzmaster Face 2 Face II Auto Chrono - Ltd Ed 1999pcs)
As I mentioned at the start, there's a lot going on with this watch: a rotating case, a chronograph with a passing second hand, an outline element, three measurement scales, three sub-dials, a day and date window, and quite a mix of materials and colors to keep your eyes occupied for some time.
On some consideration, it's probably not for everyone, more from Kandinsky than Mondrian when it comes to modern design. the Hamilton Jazzmaster Face 2 Face II Limited Edition is certainly an ambitious and entertaining piece that offers plenty, and is quite an update to the first version to stand apart from it.
Feel the legendary Swiss touch on your skin. Get Jazzmaster Face 2 Face II Auto Chrono on Gnomon store now!
You may like this